Profile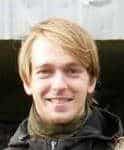 Edgars Kelmers
Curriculum Vitae
Education:

High school: Valmieras Pargaugas Gimnazija (Latvia). Riga Technical University (Latvia). KU Leuven university (Belgium). University of Leeds (United Kingdom)

Qualifications:

Bachelor degree in Medical Engineering

Work History:

Test Engineer in Biomechanics (2.5 years). Intern – Orthotist (1 month). Intern - Medical Physicist (1 month).

Current Job:

PhD research student (making "smart" knee implant)

Employer:

Institute of Medical and Biological Engineering – University of Leeds
About Me

Curious about everything

Read more

I originally come from Latvia, but now I live with my girlfriend in Leeds. My girlfriend is from Romania. I studied in Latvia for 4 years and in Belgium for 1 year, and now I study in Leeds (UK). I can speak fluently in 3 languages: Latvian, Russian, and English. I am currently learning how to cook and follow vegan diet (trying not to eat meat or milk products). My current favorite sport is street calisthenics (street gymnastics). I also like Ceilidh folkloric dancing. Every year I try to travel to a new country, the furthest country I have been so far is Indonesia.

My Work

I tested surgical instruments, and now I help surgeons to make better knee implants

Read more

I worked in a laboratory as a Bio-mechanics Test Engineer for 2.5 years. I checked if surgical instruments are good enough to be used in hospitals.

Now I study in University of Leeds, because I want to become a designer. I want to invent better implants (artificial joints), for example, in hips and knees, that would last longer. My current research is to develop "smart" knee implant. I want to put pressure and temperature sensors inside an implant, which will replace human knee. This way I could predict if the patient has inflammation or how much force he puts on his leg.

My Typical Day: Plan, test, report.

Read more

When I worked in a laboratory I was given a detailed report to do a test. This report gave a step-by-step description of what is the current instrument use, what problems could happen during surgery and how to test the instrument`s strength.

Then I would set up a test machine. I could test the instrument strength by stretching, compressing, or twisting it with a special test machine. I could also hit the instrument with a hammer (which can measure the applied force). Over long time of use some instruments can be covered with rust, therefore instruments are washed for 500 hours to see if they will get rusty.

At the end of the test I would check if I have damaged the instruments. I would take many pictures with digital camera or a microscope of the damaged areas. Then I would write down in a laboratory diary my observations.

Lastly, I would write a report, which combines all my observations, pictures, and suggestions to improve the instrument strength.

What I'd do with the money

Upgrade skeleton Frank

Read more

My university has a skeleton named Frank. Frank is always used in public presentations to talk about surgeries and joint replacement implants. Frank already has few implants attached in the hip and knee, but there are much more surgeries that could be showed. So I would use the £500 prize to give Frank new implants, for example, ankle, elbow, shoulder. This way the Frank will be able to explain to people about the many different joint surgeries.

My Interview

How would you describe yourself in 3 words?

Curious, sporty, honest

What's the best thing you've done in your career?

Designed and built a test machine, which can control the movement of a foot.

What or who inspired you to follow your career?

When I studied in Belgium I visited a company which was making 3D printed implants, to help badly injured patients. Then I thought that I could learn to do the same.

What was your favourite subject at school?

Sport, Music, Mathematics

What did you want to be after you left school?

I wanted to be a surgeon, but I could not make the application. So I decided to be a medical engineer so I could still help doctors.

Were you ever in trouble at school?

When I was 12 I had few fights with my classmates, but nothing bad happened.

If you weren't doing this job, what would you choose instead?

I would try to find work where I could do computer designing.

Who is your favourite singer or band?

White Stripes

What's your favourite food?

Red Thai Curry

What is the most fun thing you've done?

I was signing in a choir of more than 10,000 people in the Song and Dance festival of Latvia

If you had 3 wishes for yourself what would they be? - be honest!

1.I want to live near a river and a forest. 2.I want to travel to all countries in the world. 3.I want to do one-hand push-up in a hand stand position.

Tell us a joke.

Two donkeys are standing at a roadside, one asks the other: So, shall we cross? - The other shakes his head: "No way, look at what happened to the zebra."
---
---