Profile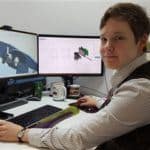 Emily McNee
Curriculum Vitae
Education:

Budmouth Technology College, University of Bath

Qualifications:

12 GCSE's, 2 AS Levels, 3 A Levels, Master degree in engineering & chartered engineer

Work History:

Had part time jobs throughout school from paper round, working in a cafe & working in retail. During Uni I worked designing drill bits for oil companies (think the movie Armagedon). On Graduation I worked designing Gas turbines for aeroplanes, then rotary compressors for sewage treatment, then Medical devices, then gangways for trains and I am now back working on medical devices.

Current Job:

Engineering Manager for UK & Europe

Employer:
About Me

A classic Mini enthusiast who loves solving problems

Read more

I live on my own in Walsall in the West Midlands. I own a cat named Ginger who to be fair runs the place. I have a classic mini called Dottie who I spend more money than I should looking after. During the summer months she has taken me all round the country to different Mini fairs. I have moved around for my career within the UK finding different interesting problems to solve. I have a close circle of friends and the newest addition to that is my Godson Michael. I love DIY but hate glossing.

My Work

I design and develop X-Ray therapy systems for skin cancer treatment

Read more

I am primarily a mechanical engineer but have recently moved into managing a small diverse team of engineers. We are responsible for the design and development of hardware and software solution for improving the treatment of skin cancer.

As a mechanical engineer I am responsible for ensuring the hardware of our systems is safe and is fit for purpose. This can involve calculations, the use of CAD or having conversations with people.

Through my role I have gained some experience with electrical engineering to better understand the restrictions electrical can have on a mechanical design.

Managing has been an interesting new horizon where learning about other people, how they work best and ensuring they can achieve their potential. As this is quite a new endeavour I am still learning.

My Typical Day: Solving problems, but typically each day is different.

Read more

My day is split between project work and maintaining product.

Project work is mainly planned work which is based heavily on the next new innovation to maintain our market edge and continue to supply systems which not only help treat skin cancer but also improved the customer experience, where the customer for me is both the user of our systems as well as the patient undergoing treatment.

Maintaining product can be a little more unpredictable and exciting. This is mainly down to dealing with people other than engineers. I do not recall a week where I haven't been asked for a thingamajig which is able to do something completely wacky. This could be a user wanting something special on their system which no one has ever asked for before or our sales team asking for variations on items we have done a million times. It is my job to risk assess and come up with viable solutions which meet both the need of the customer as well and as the quality the company portrays

What I'd do with the money

Invest into my local STEM events

Read more

A picture can say a thousand words and making and doing paints a thousand pictures. During my time as a STEM ambassador I have noticed a positive trend between engagement and stuff to play with. With the money I would use it to put together some "stuff to do" resources. Building and making both increases creativity as well and team building and communication.

So I would use the money to put together a kit of parts which I could take into schools to engage students in solving problems together.
My Interview

How would you describe yourself in 3 words?

Driven, Loyal, Problem-Solver

What's the best thing you've done in your career?

Made a mini airport luggage conveyor for my sisters travel themed wedding.

What or who inspired you to follow your career?

My dad, he worked for an engineering company and could see my potential in this field and made to necessary connections for me to pursue.

What was your favourite subject at school?

Maths

What did you want to be after you left school?

An Engineer

Were you ever in trouble at school?

A little bit, when I was in my mid teens

If you weren't doing this job, what would you choose instead?

Astronaut (1st Person on Mars)

Who is your favourite singer or band?

Green Day

What's your favourite food?

Cream Tea

What is the most fun thing you've done?

Rebuilt my Classic mini

If you had 3 wishes for yourself what would they be? - be honest!

To be happy, to have no finacial worries and to have a long and fulfilling life.

Tell us a joke.

Man walks into a bar...............Ouch!!
My profile link:
https://healthj19.imanengineer.org.uk/profile/emilymcnee/
---
---